Primary & Intermediate School
Grades 1-5
Inspiring a passion for knowledge.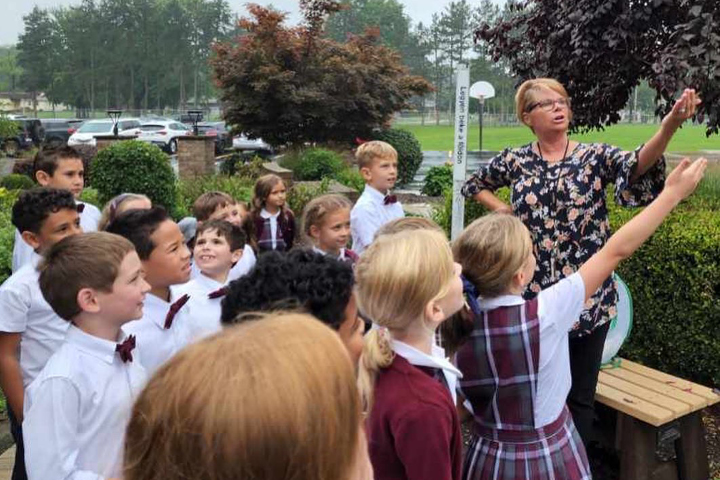 Primary School
The Incarnate Word Academy Primary Grade experience begins in first grade and continues through third grade. Our primary school teachers strive to build on the math and literacy skills taught in kindergarten in addition to preparing students for the transition into the fourth and fifth intermediate grades.
Our Primary Literacy Program provides systematic, explicit instruction and practice in the foundational skills students need to be successful readers and writers—print concepts, phonological and phonemic awareness, phonics, and fluency. Additionally, handwriting, spelling, word analysis, and vocabulary help students build the essential foundation for fluent reading and comprehension.
Math instruction builds numerical reasoning, operational skills, and problem solving skills necessary for success that builds from basic functions toward beginning algebra. Students entering first grade will build a strong foundation using base ten to add and subtract. This knowledge will be applied in second and third grade as students begin to add and subtract multi-digit numbers, multiply and divide.
Our religion curriculum fosters a love of God and prepares our students to be active participants in the Catholic faith. Through daily lessons, Bible stories, and projects, students learn how to build strong character and treat others with dignity and respect. Students attend all-school and class Masses, and second grade students are highly prepared to make the Sacraments of First Holy Communion and Reconciliation at their home parishes.
Students are immersed in learning experiences in the content areas of science and social studies. Our primary students visit the STEM lab once a week for dynamic, hands-on social science lessons. Students also participate in specialized courses such as Art, Computer, Music, Library, Physical Education and Etymology.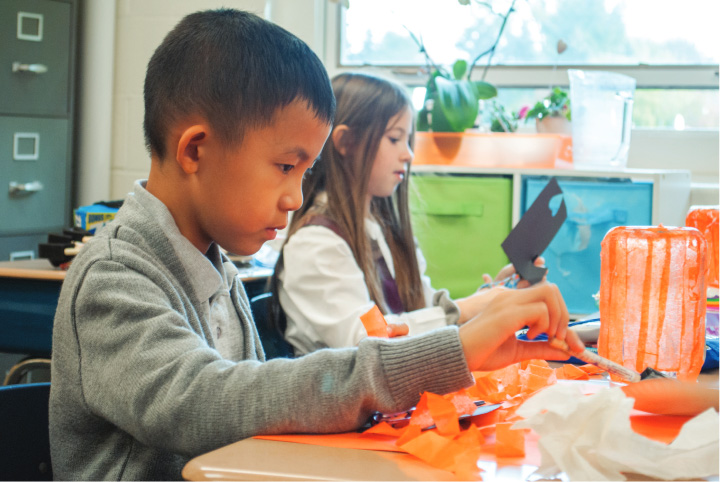 Intermediate School
Students in grades four and five are a part of our Intermediate School. While they are no longer a part of the primary grades, they are growing and working toward the transition to becoming a Preparatory student at IWA. With this transformation comes a focus on students becoming more independent and accountable for their learning and organizational skills, all with the support of a small group of specialized teachers.
Every student has both reading and language arts daily in a 90-minute block of time. This allows the teacher the flexibility to develop concepts in a meaningful way. A love of reading is the focus in the intermediate level, as novel studies are immersed with other subjects. The Accelerated Reading program is used to challenge students to read at their independent reading levels, while gradually offering more complex texts.
A strong focus on identifying and using the parts of speech is developed as student writing becomes more complex and increases in length. Speaking and listening skills are continually developed through class presentations and problem-based learning.
Fourth grade math dives deeper into multiplication and division concepts as fractions, mixed numbers, and decimals are explored. Students in fifth grade are placed into an on-track or an honors math class, which covers both fifth and sixth grade curriculum. In addition to nightly homework, students complete weekly online work that offers a spiral review of previously taught lessons. Beginning in fourth grade, after school math clubs and competitions are offered for students desiring more math development and challenge.
Social Studies and Science in fourth and fifth grade are taught daily, and real world learning and experience are emphasized. Social studies lessons in fourth grade focus on how ideas and events from the past have shaped Ohio and the United States today. In fifth grade, students study the Western Hemisphere and begin to develop their understanding of the relationship between markets and available resources. In science, students visit the STEM lab weekly and get to work in small groups, collaborating as they solve problems or design structures that support weighted objects. After school, they can join the Science Olympiad Club, furthering their STEM skills through competition.
Students attend all-school and class Masses and participate in Masses as lectors, choir members, and gift bearers. Students can attend Confession two times throughout the year with their peers. Additionally, the fourth and fifth grade levels complete various service projects throughout the year.
Students also participate in specialized courses in Art, Computer, Music, Physical Education, and either Etymology in fourth grade, or World Cultures in fifth grade.