Inspiring the love of new experiences.
The Incarnate Word Academy Kindergarten Program prepares students for a successful and smooth transition to first grade. Our teachers launch positive study habits and foster growth and readiness skills in reading and math. Kinder Lane, a special area in our building, is devoted exclusively to our young learners. It occupies two kindergarten classrooms and individual lockers, allowing our students to feel safe while building independence. Our kindergarten teachers work as a team to plan various exciting activities throughout the school year that complement units of study, providing more authentic learning experiences.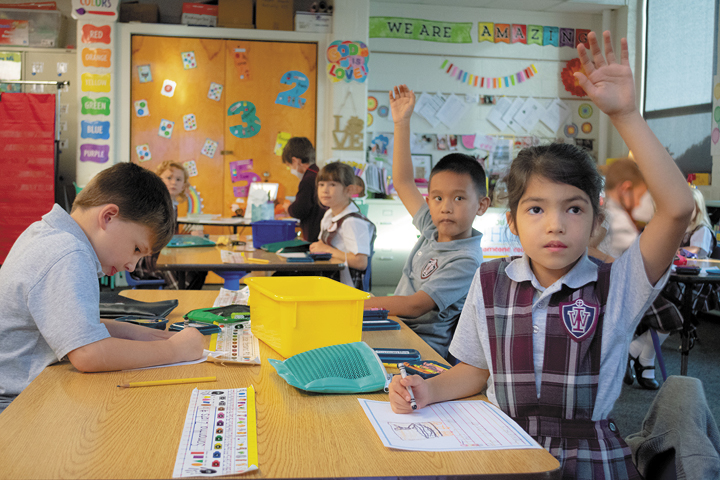 The Superkids Reading Program is introduced in Kindergarten and used through Grade Two. Units of study focus on the adventures of the Superkids, while weaving in social studies, science, and character-building concepts. Students love learning letters and sounds through the introduction of relatable characters, and develop skills in grammar, usage, blending, handwriting, comprehension, story structure, parts of speech, sentence writing, and more. Both whole group and small group instruction is used to meet the needs of all learners.
The Kindergarten Math Program develops skills in establishing early algebraic concepts, solving word problems, addition and subtraction problems, creating sets, identifying shapes (2 and 3 dimensional), formulating concepts of values and money, and understanding positional words, ordinal numbers, and pattern recognition. Students work with math concepts through a variety of ways, including the use of math games, center work, through art, and with real-life applications.
Kindergarten students visit the STEM lab weekly. In Science class, students explore the topics of sink and float, the five senses, living and non-living things, and the STEM lab allows students to develop these skills with a hands-on approach. Even at a young age, Kindergarten students begin to understand the importance of trial and error.
Kindergarten students also participate in specialized courses such as Art, Computer, Music, Library, Physical Education and Etymology.