Inspiring a drive to impact the world.
The Preparatory Academy experience at IWA prepares the students with an extremely rigorous curriculum, engaging and developing each student to his or her fullest potential. Through a comprehensive and collaborative curriculum, students commit themselves to their academics and develop a strong work ethic.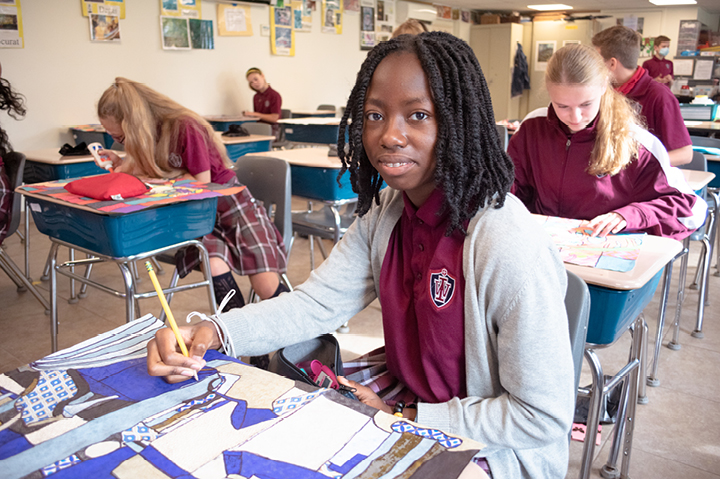 Academic subjects of study include Mathematics, Language Arts, Science, Religion, and Social Studies, with special studies in Art, Computer, Music, Physical Education, and Latin.
Mathematics includes Pre-Algebra, High School Algebra I, and High School Geometry. Students take courses in either an on-track, advanced, or honors track for mathematics. Other opportunities for math development include various math clubs and math competitions such as MATHCOUNTS and GCCTM (Greater Cleveland Council of Teachers of Mathematics). 
The Language Arts program requires rigorous analysis of increasingly complex texts, including informational texts. Students develop an understanding and appreciation of various genres of literature; incorporate higher-level vocabulary into spoken and written language; and identify and use all stages of the writing process to create a multitude of writing pieces for a wide span of audiences.
The Science Program seamlessly incorporates text concepts and hands-on learning. Together with the sixth grade overnight trip to Camp NUHOP, the seventh grade Science Fair project, and various laboratory experiments and observations, students learn science theory, real-world application of science concepts, research, teamwork and collaboration, problem solving, and time management. The classroom space is connected directly to the newly renovated science lab which includes new flooring, student lab work stations, goggle sanitizer, dishwasher, grow lights, vent system, built-in cook top, teacher work station, new sink and countertops, a microwave, refrigerator, stools, cabinetry, and various tools and equipment.



The Social Studies Program is dedicated to bringing history to life. Experiential learning is a focal point, and throughout the three years, students will enjoy the learning process by doing. Lessons provide students with first hand experiences that link to the text, and they will focus on different types of historical writing. In sixth grade, students dissect the textbook's perspectives, understand all sides of events, and then produce projects and written summaries of those same events through other's eyes. In seventh grade, students work on thesis creation followed by MLA research. Finally, in eighth grade, students tackle primary sources, utilize their knowledge of analyzing primary sources, and start writing document based questions.
The Religion Program strives to focus on the understanding and knowledge of the Catholic faith and the development of living the Gospel values. Service opportunities are offered through classes and after school clubs, and students can volunteer with a cause they are passionate about. Relationships with Regina Health Center, the military, animal shelters, hospitals, and food pantries are just some of the many ways our students engage with their community.
IWA is a Purple Star Designated School through the State of Ohio, recognized for our commitment to students and families connected to our nation's military. Seventh grade students are paired with a Veteran and correspond throughout the school year, enhancing their respect for their community and country.
For the past several years, 100% of Incarnate Word Academy graduates have been accepted to their first choice high schools, attending area high schools such as St. Ignatius, St. Edward, St. Joseph Academy, Magnificat, Padua Franciscan, Holy Name, Walsh Jesuit, Beaumont, Hawken, Lake Ridge Academy, Western Reserve Academy, and University School. The past several graduating classes have also earned over $1.2 million in high school scholarships.